Stay Up-To-Date With Everything Real Estate

JANUARY
2020
Buyer Eyes Pricing
As a home seller, it's important to know what you're up against, and this is especially true when it comes to setting a price for your home. In this sense, what you're up against are the other homes for sale on your street, in your neighborhood and in your local market. Do you know who else is selling in your area? Do you know how much comparable homes are listed for? Have you ever done a ride-along with an agent and gone out and looked at the competition? This is something I love to do as a Real Estate agent, and it's a pricing strategy we call Buyer Eyes Pricing. Going out and scoping the competition takes time, sure, but it's so valuable in knowing what you're up against so that you can set your home up for success i.e., a quick sale for the price you want.
The process of doing this is rather simple. You have to "become the buyer." Take off your seller's hat for a second and focus on looking at homes through the eyes of a potential buyer. What do you like? What don't you like? Buyers all have a "spreadsheet" of things that they're looking for, whether it's a physical sheet or simply a list in their head. We make this even easier by giving you a template that breaks it down in a simple-to-use format so that you can rate the houses through buyer's eyes based on the following 5 factors.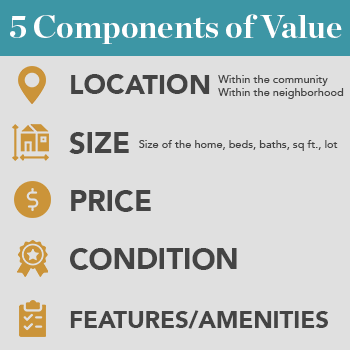 As you go out and look at other properties for sale, go through the process of rating these homes based on these 5 factors to decide which are the best/most important to you. As you pretend to be a buyer, evaluate the competition based on the scores you give for each of the 5 core values.
Using this spreadsheet template is a powerful way to help you decide if you're under or overpricing your home. One of the reasons it works so well is because showing is always better than telling. It's sort of like a football coach preparing his team for their upcoming game. Sure, there are team meetings, but the real preparation is in watching the film of their opponent to know exactly what they are up against. Similarly, we can sit in your kitchen and talk for hours about your home and its marketplace, but there's nothing as powerful as going out onto the "playing field" and visiting and sizing up the competition.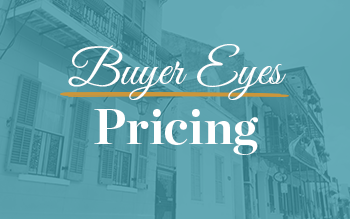 So, let's take it one step further as we think about pricing your home through the eyes of a buyer. When searching online, the average buyer probably searches based on a price range. Let's say they are looking at homes from $450-$500,000 or $500-$550,000. What we now know is that a pricing bridge exists at $500,000. If you price your home at $500,000, you will catch buyers searching in both of these price ranges. If you priced your home at $499,900, you would not catch the buyers searching for $500-$550,000 homes, and could potentially be missing out on a sizable number of potential buyers. What a shame that should be! So, if you're close to one of these price bridges, we recommend pricing on the bridge (in the above example, that would mean setting the price at $500,000). For luxury homes, price searches can be a bit wider. So, in New Orleans, a family may be searching for a home between $800,000-$900,000 and $900,000-$1,000,000. In this case, the price pricing bridge would be $900,000. What we have found through research is that homes that are priced on the pricing bridge receive 28% more showings. And of course, more showings equal more potential buyers. And that is what we're looking for!
Buyer Eyes Pricing is a very valuable, powerful strategy for you as a seller. It allows you to get in the mind of a buyer by rating the competition on the 5 Components of Value a.k.a. the things that we all look for in a home. Then, with all the other Local Market Tools available to you through Gardner Realtors, we can set a price that is not only attractive to buyers but within a range you deem advantageous for you. By pricing on the bridge, we will take it one step further by ensuring that you are casting a wide net for potential buyers.
Are you ready to sell your home? Let's talk today and get started on creating the life you love!

2020 Design: Ways to Enhance Your Home in the New Year
By Wendy Dessler
RISMEDIA, Wednesday, January 08, 2020— The interior and exterior of your home have the potential for memorable design in the coming year. As the 20s of the 21st century are upon us, a combination of classic chic and modern savvy are combining to make new homes something to marvel at.

Here are a few different design families to help stimulate your imagination:

Mainstream Interior Decor Styles
A few interior decor trends you can expect to see include: kitchens firmly eschewing the "white" color stylings of years past; more floor plans including formal dining rooms; restrooms including seats that aren't just toilets; tile tub aprons making bathtubs look built-in to walls or floors; cheerful laundry room decor; and fully-wrapped powder rooms where decor encircles the space. Mirrors, designs, obscure paint schemes—many creative solutions exist here in terms of "wrapping" a space. It's not just powder rooms that get this treatment. Because of home prices and economic fluctuation, many interior design trends are focused on space maximization.

Creative Space Maximization
There are a few schools of thought on this, among them floor-to-ceiling mirrors, partitions and multi-purpose rooms. As an example, a room that's approximately 15-feet-by-15-feet can be cut in half with a partition down the middle and used for multiple purposes. Furniture goes in front of the mirrors. By doing this, it feels like you're in a room made of windows, and something much larger than 225 square feet. Certainly, you don't need partitions or floor-to-ceiling mirrors to make a room multi-purpose. Many tiny homes have Murphy beds that do the trick just as well.

Technological Implementation
LED lights can be found in colors that feel warm even as they use much less energy than traditional filament bulbs. Smart-home design can be used to proactively manage energy. If you're unfamiliar, smart technology essentially marries internet connectivity with basic home appliances and decor.

You can control all the lights in your home from slide bars on your smartphone—basically, a WiFi device has been fitted to the electrical array maintaining the lights. The same can be done for heat, AC, refrigerators, garage doors, surveillance systems, and more. Home design in 2020 will likely feature an increase in smart home designs.

Also, as technology has miniaturized, pursuits once only possible for the extremely well-to-do are affordable to the average person. A home theater is simple with a room where the light can be controlled. All you need is a white wall and a projector—many are cost-effective and small enough that they can be held in your hand. Projectors can even be aimed at high ceilings, if that suits your home, while the family sits at a relaxed angle like they're at a planetarium.

Modular Housing and Possibilities
The tiny home movement has become so popular you can buy a $19,000 tiny home from Amazon.com. If you have a house, thousands to spend and a few weeks you can spare, you can build a tiny house in your backyard. Make it adjacent to an alley, install a mailbox and rent the space out at $1,000 a month and you can quickly recoup your investment—you now have a Passive Income Generator (PIG) on your property.

Certainly, a tiny home DIY kit isn't exactly modular housing, but there are modular housing options that exist and allow you to add rooms to your property. In 2020, you can expect some homes to be cobbled together piecemeal according to need, looking hodgepodge from outside and in. Due to economic flux, technology and housing prices, there are going to be some strange properties designed and inhabited in the coming years, and that's not necessarily a bad thing.

Maximizing Possibilities in Your Home
You don't have to totally rebuild your property to capitalize on some of the trends mentioned here. Interior remodel could change a kitchen or bathroom, and add a formal dining room. You could simply paint your walls white, shutter the windows and add a projector for a theater room. Or you could go the technological route if you'd like, or add to your property with small builds. Instead of a tiny home, you might put a gazebo in the backyard with a garden underneath and vines stretching up the supporting struts. There are many affordable possibilities; it all depends on what interests you. Get creative this year and see what best matches your property!

This was originally published on RISMedia's Housecall.
Louise Gane »
REALTOR
Featured Properties
Testimonials
Louise was very accommodating of my schedule and ensured that all of my questions were answered. She was very helpful in the whole process!
Read More

»
Garden District©
2727 Prytania, Suite 20
New Orleans, LA 70130-5907 USA
©2021 Latter & Blum
Licensed in Louisiana
Copyright © 2021 Latter & Blum. If you have a brokerage relationship with another agency, this is not intended as a solicitation. All information deemed reliable but not guaranteed. Brokerage firm Licensed in Louisiana and Mississippi.