If I can hold your attention for the next five minutes, I assure you it will be worth your time. First things first--Some Good News.
If you have not heard of John Krasinski's new Youtube webseries "Some Good News" (SGN), I highly suggest you take a look before doing anything else with your day. Though this whole crazy thing has got us scrambling to put our lives back together, the true nature of the human spirit can do no such thing but triumph and spread light in moments of darkness, and SGN is a great example of that. Its premise is as pure and simple as the name suggests, where for a short period of time Krasinski--known for his breakout roll in The Office as Jim, and now more so for his recent hit, A Quiet Place--shares his charming smile and lovable to brighten your day. So, it's okay--the 40,000 emails and calls can wait. Give it a watch--the link is below.
https://www.youtube.com/watch?v=Eg08rJGKjtA
The show could not be more topically relevant than it is now, where we all need a bit of joy to remind us of the beauty of the world. My fellow Americans, I am no preacher, nor am I prophet, but hear my words when I say the light does shine at the end of this dark and narrow tunnel. In fact, it shines all around us, and Life is still a beautiful thing to be lived with so many joys to be had. Just look around at the brilliant Spring weather, at the blue sky, or the busy woodpecker. We shall prevail.
On a sillier note, if you are looking for a quick pick-me-up, quickly scroll through this Buzzfeed article. It brought a smile to my face--I am sure it will to yours. The link is below.
https://www.buzzfeed.com/daves4/100-better-pictures
In a slightly different tone, here is something I found fascinating. A Van Gogh painting entitled "The Parsonage Garden at Nuenen in Spring" was stolen in the dead of night from the Singer Laren art museum, 18 miles from Amsterdam. See it below.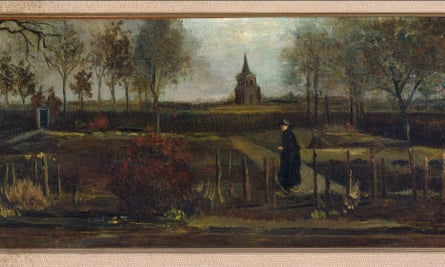 The painting has never been appraised, but similar Van Gogh paintings have fetched multi-million dollar price tags. According to local authorities, it is believed that the painting is likely still within the Netherlands' borders due to the increased travel restrictions. But if it was not, where would it go? I found the question fascinating, and an article by Esquire I am attaching below does a good job answering it. It goes on to say that the first path would be to go through the criminal marketplaces within the Netherlands, where it would eventually move into Belgium and depart from there to countries that are "friendlier to acquiring stolen objects," such as Switzerland, France, and Quebec. But who even buys stolen multi-million dollar paintings? Read the article below to find out.
https://www.esquire.com/entertainment/a32098106/vincent-van-gogh-stolen-painting-art-heist-robbers/
Though I have not read any articles speculating to the identity of the art thieves, I wonder if they are connected to the infamous Pink Panther jewel thieves, the world's leading high-class, secretive thief guild that has gotten away with the stolen a net worth of hundreds of millions of dollars since the 1960s. More on them in my next newsletter.
Lastly, if you have made it this far in the article, I extend my gratitude. I hope you enjoyed it. I want to share with you all one of my favorite pieces of music recently that capitalizes on the theme of this article. Give it a listen when you are driving home, or perhaps more appropriately when you get home and the person you love walks through the door. Have yourselves a dance, because life has always been beautiful, and it still is today.
https://www.youtube.com/watch?v=YEQBXxfHa3g
My most humble thanks,
YOUR LOCAL REALTOR